Showcase Your Dog Love With Unique Customized Dachshund Shirts | 365 Fury
Are you dedicated to adorable dachshunds? Or do you have a dachshund as your four-legged companion? There are various personalized gifts for you and your pets who are always by your side. Customized pet gifts are easy to create with photos and given names. Or if you would like to send gifts to dachshund lovers, just upload a photo of their pets and create a unique present that they'll cherish forever. 
You can find the perfect personalized gifts with items like shirts and more. If your beloved pets have passed away, you can create a customized gift with their photo to celebrate their life. Why not browse some shops for dog lovers to find something special? There are gifts available for both dog dad, dog mom and dog people. These pet gifts are sure to make everyone smile.
An actual dog is the best present you can give a dog lover. What about the second-best one, though? Only love, pride, and a personal connection with their four-legged companions may be expressed on a deep emotional level. Any important event will be enhanced by a personalized gift! For dachshund lovers, we provide a range of alternatives to choose from, and for dachshund parents, we provide a sanctuary for something unique and personal with their own fur-babies in every final product. Dachshund shirts are a very unique product. The pairing of a dachshund and a shirt is a curious one.
Pet t-shirt: a unique and interesting gift!
You know what a t-shirt is, and you likely have more than a few in your closet. However, you may not realize this casual wear item can be cool and trendy – if you style it properly. This is a unisex top and can be worn by anyone. Because of its versatility, the t-shirt has been a popular trend for several decades.
There must have been instances when you were dissatisfied with your pet or didn't think your dog was useful enough, but you quickly realized that you were wrong and that you were the one who was being too harsh on your dog. You feel as though you are surrounded by spiritual love on such a day, and you and your pet have an unconditional relationship. There are moments when you want to express your affection for your dog but are at a loss for ideas. Let us propose a whole new approach to show your affection for your pet by wearing a Custom Pet T-Shirt. Doesn't it seem like a good time?
The advantages of wearing a custom pet t-shirt go beyond simply delighting your pet. It has several advantages. Whenever you wear a custom pet t-shirt, it tells something about you. The quote or a picture on your t-shirt can attract a group of people. Why not give them a good reason to pass their judgment on you by giving them a look at your cute t-shirt that defines you.
Humans have the ability to put on Custom t-shirts for Pet Lovers make an excellent gift for pet owners, particularly on Mother's and Father's Days. Recognizing this, we have designed a selection of Custom Pet T-shirt items with eye-catching, one-of-a-kind, and delicate designs that demonstrate animal lovers' strong respect and appreciation. You can purchase products for yourself or for loved ones if you are an animal lover. This gift from you will undoubtedly be appreciated by them.
What's more impressive: a combination of a dachshund and a t-shirt
We recognize the strong relationship you have with your pet. We, like you, love our dogs as close friends. We adore our community of pet owners who share their pets' unique, happy, and humorous stories. We adore how you love your pets, from dogs to cats, ferrets to chinchillas, and every loving animal in between. We take great pleasure in providing you with an unrivaled purchasing experience. We're not happy unless you're happy. We have been documenting the one-of-a-kind and beautiful relationship between dogs and their parents. And this article is for us to show our love for the dachshund, a wonderful dog.
The dachshund has in its small body, a daring personality. They are known to be brave, stubborn, independent, and funny companions. The dachshund is an energetic, lovable dog breed with an endearing personality. Known affectionately as the doxie, wiener dog, hotdog, or sausage dog, this breed of short stature leaves a lasting impression. They are surprisingly fierce and are regarded as a "big dog in a small dog's body" as they tend to achieve more than what their size is supposed to. They sometimes bark loudly, making them good watchdogs. These funny little hounds are loyal and attached to their owners. In all, this hound is a great pet to be with and so also are the funny dachshund t-shirts and hoodies. With them, you have no reason to search further because it's fun to be here.
The Dachshund photos we pick to put on T-shirts are popular and instantly catch the attention of others. That might be a photo of a smiling Dachshund dog or a dog begging you to feed him. We build and create the best pet and animal-loving t-shirt collection for all the dog guys in the world, starting with humorous memes. Many of our Dachshund images are funny and ridiculous, but there are some that convey important messages about animal rights and interests. 
T-shirts may also make excellent gifts for Dachshund lovers. The key is to create a catchy t-shirt design that will draw the attention of everyone who sees it, and that's where we come in. Don't settle for a low quality design that will get overlooked – leave it to the professionals who know what makes a good t-shirt design. We will make sure that you walk away with eye-catching, quality apparel that will draw attention from onlookers and spark conversation. 
Some interesting designs of dachshund shirts
We have numerous models for pet owners, but this time we'd want to give you something unique for people who like Dachshunds. They are very affectionate, caring, and dedicated pets. Their enthusiasm for life is contagious. They like cuddling, wriggling, and kissing you. And don't forget about that amazing smile!
Dachshunds are intelligent and sensitive to human emotions; they prefer to remind you just how much they adore you on a daily basis. They have a lot of personalities and value their owner's attention and approval beyond everything else. You can never have a bad day when you have a Dachshund at your side. Why? Just take one look at them – their huge smile and flopping tongue will undoubtedly make you smile as well. The cute image of Dachshund Dog is the idea that we put in this product of ours.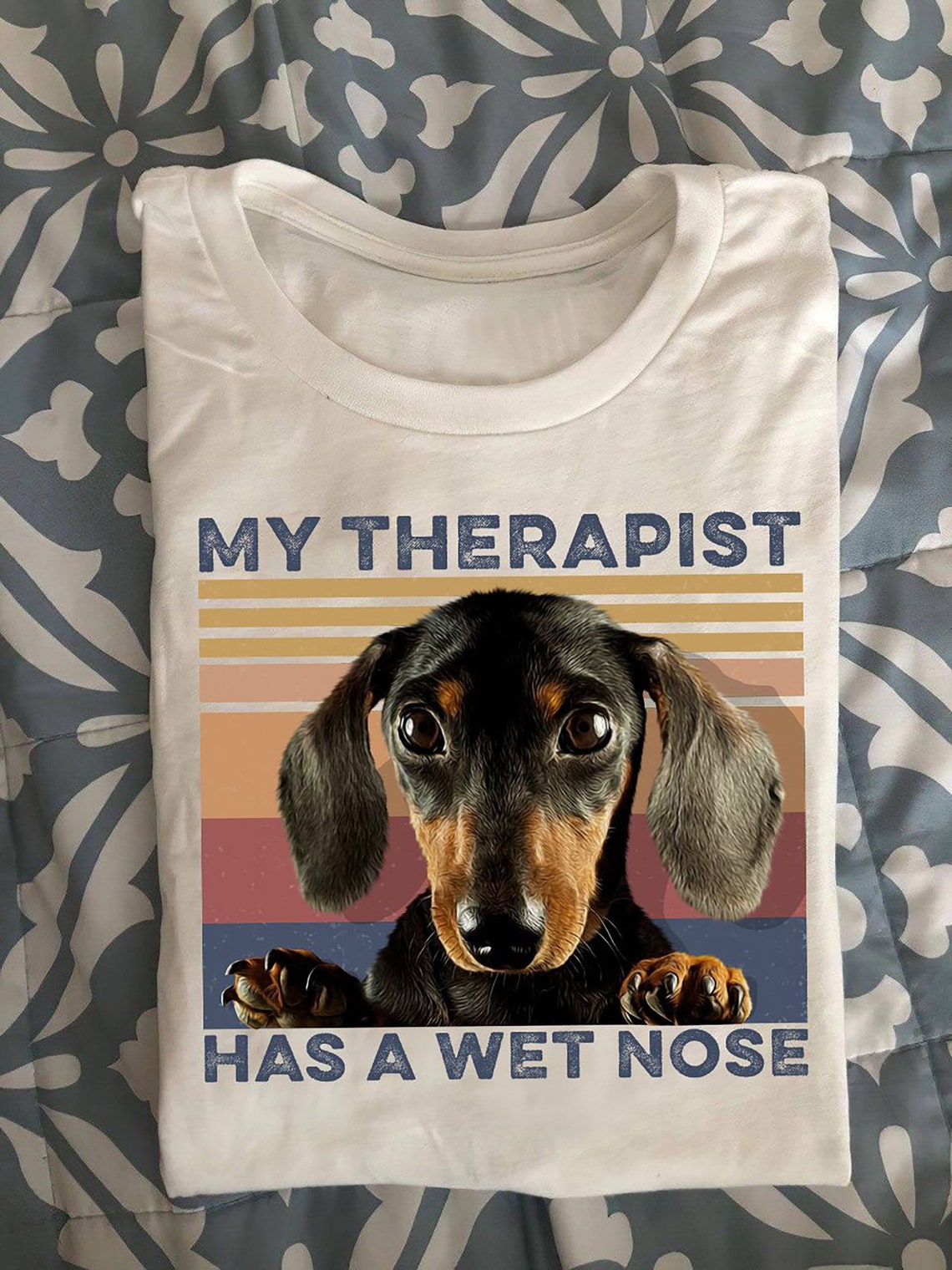 This "My therapist has a wet nose" shirt is a handmade one which can be printed with customized texts and colors. It is both cute and good in quality. Various colors and sizes are available so that the fit is perfect for you. The material is soft and the colors are spot on.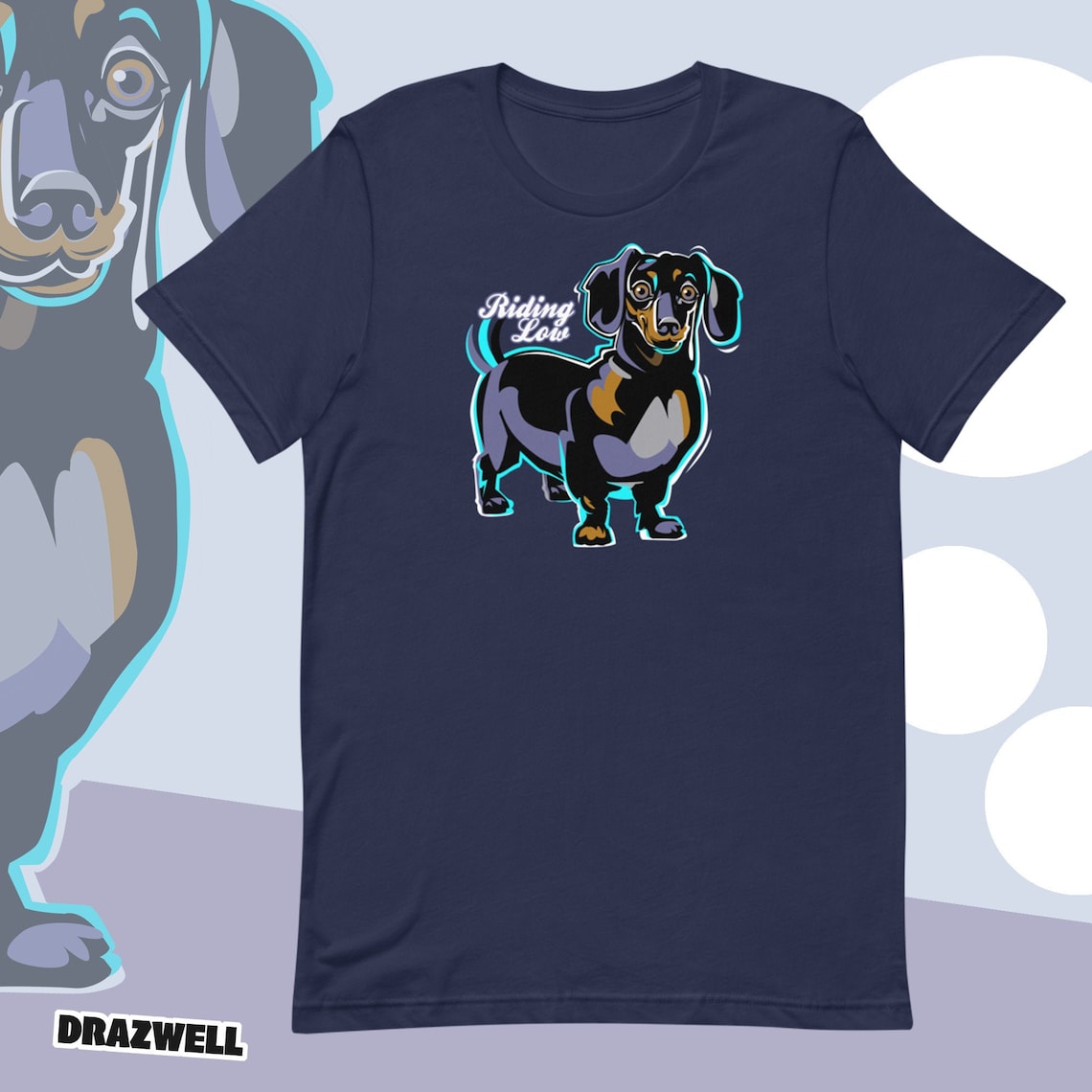 This small and brave little dachshund is happy to be riding low wherever it is you are heading for the day. The shirt is comfortable and flattering for both men and women. "Dachshund Riding Low" shirt is also handmade.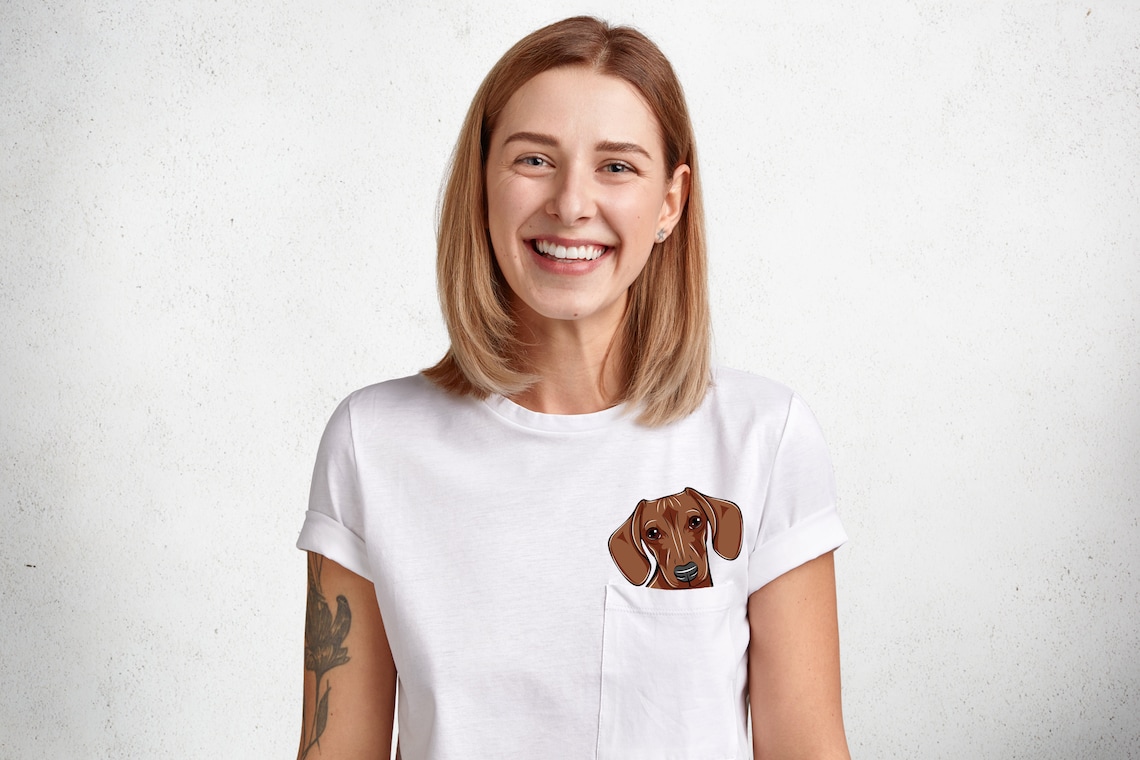 This shirt is really fun and unique! With the cute face of a mini dachshund and its middle finger hidden in the pocket, you may laugh every time you look in the pocket! What's more, you can select the color of the dachshund to best represent your lovely pet.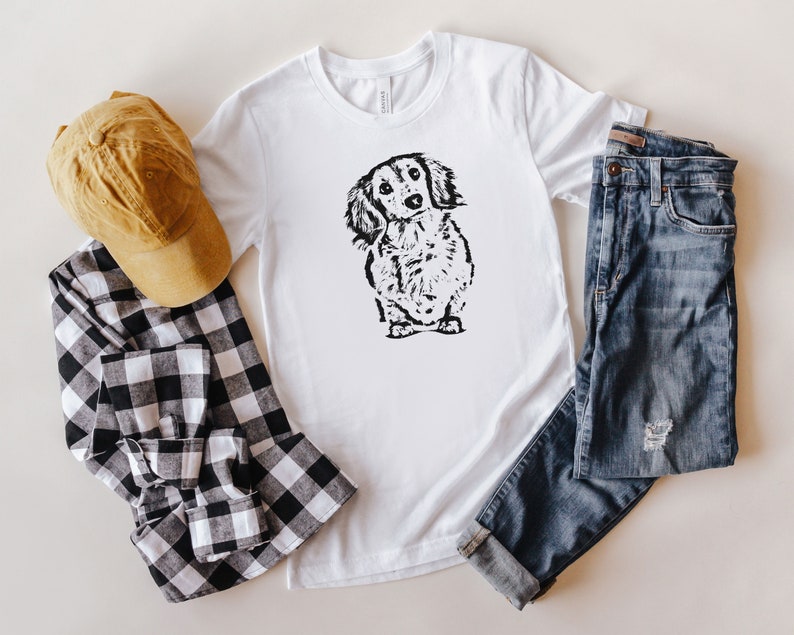 This appealing Long Hair Dachshund T-shirt is the ideal dachshund present for any doxie fan. Don't you just love it when your dachshund tilts their head and stares at you with those puppy dog eyes (maybe they're just looking for treats, but it's so cute!)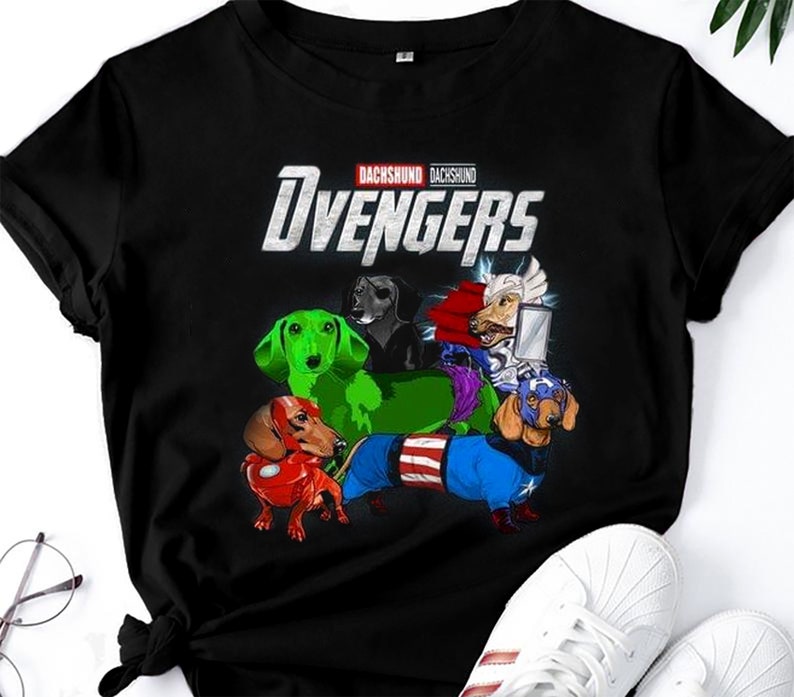 Filmaholic dog lovers should never miss this adorable "Dvengers T-shirt". The design is bright, colorful, the quality is great and the material is super soft. Sizes are available for both men, women, toddlers and teenagers. You can select a listed color for your shirt, or give notes for different colors.
The funny "Wiener Wars" dachshund shirt is the perfect gift for dachshund lovers of all ages. The design is so cute that you will have real fun every time you see it! Material and quality are nice, too.
Dachshunds are truly loveable hounds with a friendly personality. They are fun to be with, energetic, intelligent, loyal and also affectionate. With these traits, one can easily fall in love with them. There are other apparels in this design. There's the unisex youth kids long sleeve, unisex pullover sweatshirt, women's long sleeve and others.
These dachshund t-shirts are suitable for any occasion, and can also be given as a gift to loved ones. They are made of cotton fabric, available in different colours and sizes.
>>>See all designs here: Make your unique customized Dachshund Shirts
The best choice for you: Our dachshund t-shirts
This cute and funny Dachshund tee is the perfect gift for Dachshund dog owners and anyone who loves Dachshund and dogs. This is a great puppy tee, and a great apparel for Dachshund puppy lovers. If you have a Dachshund puppy, then this is the tee for you! Makes a wonderful gift.
We are passionate about this amazing and funny breed and would like to provide everyone out there that love dachshunds with a great variety of related quality products
The reason why we are confident about the quality of our products is because:
Proudly printed and shipped from the US

100% cotton (99/1 cotton/poly (Ash) & 90/10 cotton/poly (Sport Gray)

Slim neck and shoulders

Tearaway label, double-needle sleeve and bottom hem
We are distinct from our competitors in terms of pricing, and we are very proud of it. We provide "rotating discounts" to make our products as affordable to our customers as possible. We've reduced our pricing to a flat rate per piece, so there are no hidden fees or deceptive add-ons. Our quote for dog lovers will include everything. The most important factor in screen printing and embroidery pricing is quantity. The average t-shirt price decreases as more t-shirts are purchased. The prices for a personalized white t-shirt with a one-color design and a custom colored t-shirt with a one-color design are shown in the table below. Our customers can expect to pay $22.99 per item if they buy one.
Make a big statement with our Funny Dachshund T-Shirts, or select from our extensive collection of expressive graphic shirts for every season, hobby, or event. 365 Fury offers the tee you're searching for, whether it's a snarky tee or a geeky tee to embrace your inner nerd. Create a bespoke t-shirt specifically for you if you'd rather wear your own unique design. Shop our vast t-shirt selection online if you want apparel that shows your personality.
Customize your own dachshund shirt
The first step is product type choosing. Choose the design and the product type you want to purchase and remember to Choose the right size for you or ask 365 Fury Support Team if in doubt. The next is pick your furbuddies, 200+ Fur-babies are waiting to be added. Don't forget to put his/her name as well! You can see a live preview of the final product. The last step is to place an order. Your design is now ready to print. Let's add to cart, process payments on the check-out section and wait for the final gifts to knock on your door!
Final thoughts
Have you looked at all of the Dachshund t-shirts on the market but still can't find what you're looking for? It's time to start making your unique t-shirt. Concentrate on your design, and we'll handle the rest, including order fulfillment, packing, and delivery to your or your customer's door. After you've purchased, message me on 365 Fury with the photo you want to use on your t-shirt. We can create a bespoke shirt with a Dachshund's face, or a photo t-shirt for you based on your specifications.
The designs of the personalized funny dachshund t-shirts are the ones you'd love to go with anytime. They're exceptional and supersede others out there. With these, you sure will get the satisfaction you desire.