Fantastic! 99+ Unique Christmas Gift Ideas for Pet lover 2021
The holidays are still a way away, but we're already counting down the days. Finding the perfect Christmas gift for family and friends can be complicated and it's never too early to shop for the best Christmas gift. While there are a few standbys that you can always count on such as sweaters or socks, warm hats or shoes you want to be excited about whatever you're giving — and more importantly, you want them to be even more so.
Depending on who you're shopping for this holiday from a loving grandmother or little niece or even your partners, this listed is still perfectly suitable. Especially if the recipient is a pet lover (but who doesn't) then this is not just the right gift but a paw-fect gift.
What I included in the list, most of them are personalized gifts from this point forward, you'll never go back to gifting them just basic standard socks, sweaters ever again.
Homey Personalized Pet Canvas / poster
Looking for a present for the entire family? Then you can simply start with the basic idea: a personalized canvas or poster would be a perfect gift. It can both show the love of the owner to the pet and also be a decoration piece, adorn the Christmas atmosphere in your interior space or outer space. All you have to do, visit my favorite website: 365fury (of course), choose your preferred template then customize names, dog/cat breeds, skin tones, etc. to make it personal. Our store system provides you more than 200+ Fur-babies with a full breeds list; divided according to your intentions, you can find gifts suitable for parents, lovers, and children, regardless of recipients, the gift is suitable for them all. 
Personalized mug 
Every pet lover should have the signature piece of their pet - something they occasionally grab to remind of a nightcap after a long, rough day. And you don't need to go crazy fancy to have it. So how about a mug, but not a regular one, let's personalized it. This can be an ultimate gift for anyone that loves a freshly brewed cup of coffee or tea or an alike melted ice cream eggnog this Christmas time. We love, love, love this personalized pet mug, and some of our favorite designs make us overload with orders due to high demand. But don't worry, we have fully prepared for our customers to have the best gift for their loved one.  We're confident your gift recipient will love these mugs featured their beloved pet, too. 
>>> SEE MORE DESIGNS HERE: Personalized Pet Mug: A Creative Present for Pet Lovers | 365 Fury
Advent calendar
We all know that an Advent calendar is a special calendar used to count the days of Advent in anticipation of Christmas. So we have to make it as exciting as possible. Believe me, when it comes to pets, both the owner and the dog are always excited. You could wish your friends and their four-legged friend 'Happy Paw-lidays'. With this gift, you can integrate many small gifts for both the owner and their pet. We found options with delicious treats and very cute holiday-themed toys that will appeal to cats and dogs and maybe humans, too. The small gift included for your friend, you can have some name tag (with their pet's name, maybe) or some beautiful quotes to help them get positive energy.
<Source: https://www.amazon.com>
>>>Claim Pet Christmas ornament ideas to decorate your home easily
Baker street cutter
What is indispensable on Christmas? Christmas tree? Decoration? Carols? Well, I know some may say: Cookies and milk. This has been the custom of many families when saving cookies and milk for Santa's visit. So why not impress him with cute cookies that resemble the family's four-legged friend? This would be the ideal gift for a pet lover who is also a (maybe) good baker. Get bored with a ready-to-buy cutter then you can always customize it. Below we suggest a site where you can find molds that come in many different sizes and shapes, and you make it look like your dear four-legged friend. Though small, this gift could easily be a lovely highlight for the whole holiday season.
Dog Breed Cheese Board 
Christmas is also the time of parties or gatherings, reunions. Joining many of the same parties can make gatherings monotonous and dull. So why not make it more interesting with these cutting boards with your pet shaped? Cheeseboard seems indispensable in wine connection time or a gentle afternoon tea with some little cookies? Whatever it is, this can be a fun accent on the table that you can also use to show off your love for the furry friend. For more options, you can check out the "you might also like" section for more pet cheeseboard ideas.
<Product>
Reusable Dog Lover Face Mask
Well, even if I don't want to, I still wanna mention that Covid-19 may not go that far away. We have had enough time apart and now we are eager to enjoy the moment being together this coming-soon Christmas. Even so, be careful and wear a mask, this is not a private action for yourself but also the community. Besides, we can't deny that this is a hot-trend accessory for these couple of years, isn't it? A combo of masks with your pet and some funny quotes will increase the frequency of "looking back" on the way. This will be a gift that is both practical and lovely especially for the recipient. It can also be interpreted as a wish for health for a new year full of energy.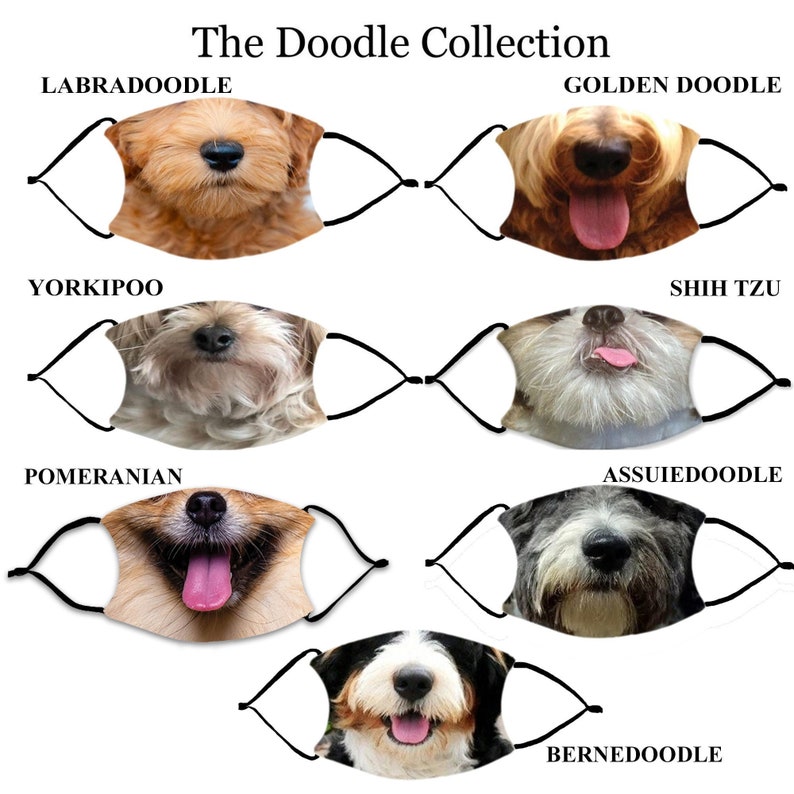 Christmas dog doormat 
The popular Pet doormat is the kind of product people might buy for themselves and buy for family and friends too. It would be thrilling to receive it as a gift. So do yourself a favor and buy one of the best Christmas gifts for a pet lover (or anyone that loves feeling warm and cozy). A doormat is like the first greeting of every home. Moreover, the doormat featuring pets is really cute. Moreover, having more pet pictures included will make them feel that you appreciate that member as they are, they will appreciate a little.
My Photo Socks
It is cozy as Christmas but it takes place in the cold winter. So the most practical gifts are the ones that keep their body warm. As I said above, sweaters, hats, scarf and so on are already too common and you don't want to give such things over and over again, right? So try these pet socks, guaranteed to warm the recipient both mentally and physically. Heartwarming is when socks are customized with their cute pet, the recipient will know that you care. Moreover, the soft socks will make them feel warm and comfortable all day long.
<Product>
Pet Sculpture Magnets
We all know that sometimes little detail adds up to everything. Pet custom magnets are a great way to brighten up your kitchen or any space you would think of. This is a lovely way you can also get creative and use it functionally in multiple places, including your office and car. It's easy to make a custom magnet to showcase your favorite memories, especially during Christmas. Bring it to the next level for pet lovers and make it personal with their pet's picture, funny quotes, or even their sculpture. Now, you will be ready to take your loved ones and your favorite memories with you to work with custom magnets.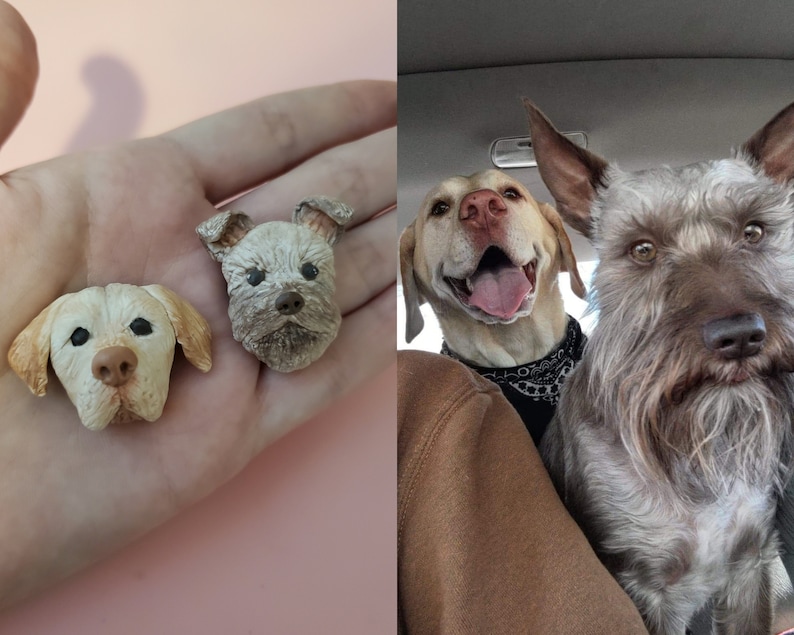 Personalized shirt
Let's be honest, you can never have enough T-shirts in your life, never. For every event, you should have a specific T-shirt to celebrate or to keep memories of. On an occasion like Christmas, choosing a T-shirt can be a safe option, but it is not necessarily boring. A Christmas gift for a pet lover is not perfect if you leave these furry friends out of the picture. Having a pet-related t-shirt template is not the only customize option, you can even make it more personal with names, breeds, and many other details. What's more? Well, this can be very ideal to give as a gift because you don't necessarily have to have actual photos of your pet like portraits or posters require.
<Product>
>>>8X Christmas T-shirt Designs for Pet Lovers
Personalized blanket
Who couldn't use a little de-stressing at the end of 2021? Personalized pet blankets let you snuggle up and relax, and they're always one of our go-to Christmas gift ideas or on any ideal gift list for pet lovers. There are a lot of them on the market, including many low-quality options and boring designs out there.  The blanket looks classy and personal details make it in style for a very long time, I believe. This can be a complement to your room decor with a lovely silhouette of your pets. Your furry friend and even you will love to curl up in this warm fleece texture. It's also easy to care with 100% polyester and machine washable in cold water. Tumble dry on low, No ironing needed.  Promise you a meaningful and wear-and-tear gift. 
>>>Cozy up Your Home with Christmas Pet Blankets
Pet Puzzle
Do you enjoy challenging yourself regularly with a good puzzle? Perhaps you do it to keep your mind sharp? Or maybe you have kids that love pulling things apart to discover how they work. Whatever your reason for loving puzzles, playing puzzles is a great way to bond your relationship during Christmas. Now let's take it to the next step by including a special member - a family pet into it. You can both enjoy time with your loved one and have a little fun with your furry friend. If you choose a pet portrait puzzle, you can even attract your pet to it. So what are you waiting for, let's find a meaningful puzzle box to give to the person you care about now.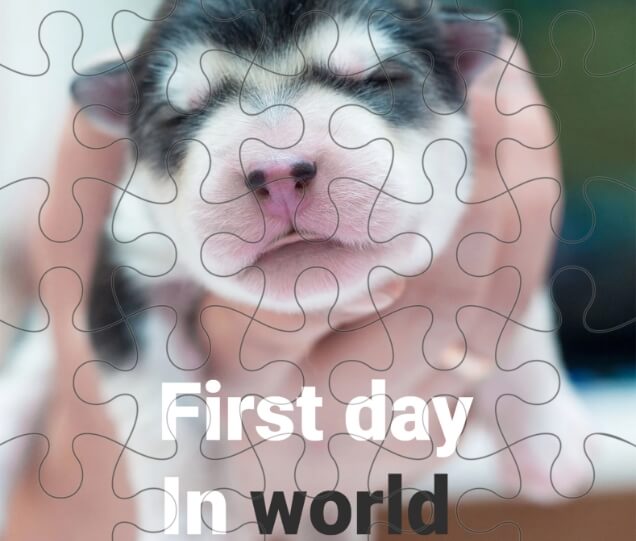 Personalized Phone Case
Forget boring mass-produced phone cases. Christmas is coming to town with joy and excitement. If the recipient is someone who can't leave the phone, this will be a great gift to go to every day. Make it more personal with their pets redesigned into the theme. Like the example, I want to mention here is a novel but nostalgic idea of Crown&Paw. Your pet can play a role from many characters with many themes ranging from the profession, renaissance, film or TV, and so forth. It doesn't need Christmas details to bring out the holiday vibe, this personalized phone case will be an interesting gift for the recipient and very practical when they can use them every day for a long time.
'Did You Feed the Dog? Calendar
For every pet lover, the life of a furry friend is a concern. Three meals a day, walking time, snacks and food, even the paw friends' petty moods can all make the owner pay attention. Therefore, this gift will be very suitable for dedicated pet owners. 'Did You Feed the Dog?' A calendar is a tool that helps owners keep track of their little friend's dog eating schedule. You can schedule and follow the meal carefully, and practice a meal routine for which the specific time has been displayed on the calendar. This will be especially helpful when your furry friend is sick or on a diet or you need someone else to look after them while you're away on business. All in all will be a gift of high practical value.
<Product>
Pebble Art
If you find the idea of pet portraits or posters is too common, then this pebble art might be for you. Pebble art is made from stone, so in addition to being able to be customized to keep long-term memories, this is also a good option for you to change the feng shui in the interior space, even if it's just a small detail. For pet lovers, the simplest way to make them special is to add pictures and silhouettes of furry friends, but you can also add Christmas-related details like little red hats, Christmas trees, etc.
<Product>
Final thoughts
We've done the hard work for you and rounded up the very best Christmas gifts this season. Well, Christmas is just around the corner and together, I believe you'll be fully prepared. With this list, you can make sure everyone on your list is covered. If you're shopping for a pet lover and wanting unique presents for year-round surprises, these ideas will be worth it.  
All of the things listed are personalized items, so don't worry about being "given the same gift". We all know pet lovers who often just want to scream out loud to the whole world about their love for their pets. So if there is a chance (through your gift) then nothing better.
With such personalized gifts, it is sure to be heartwarming. Simply because the giver shows he cares enough because he cares enough to be able to understand their preferences, enough to care enough to take the time to custom-made the details, colors, and images on the gift so that it is most suitable for the recipient. Isn't this the spirit of Christmas - sharing warmth and love?