Trending Personalized cat canvas - A beautiful treasure for cat lovers
If you are someone who adores cats and finds this creature irresistible, then you are in the right spot to scroll down this web page! If you are someone whose whole heart and mind are captured and enslaved by this soft, beautiful and independent animal, then our following words are totally for you! Or even if you are not really into those fluffy friends, yet are searching for a special gift for a cat lover, please don't hesitate to stay.
For any reason, it is time for you to think about getting a personalized cat canvas. Just imagine waking up to a personalized cat print hung on the bedroom's wall every morning, your day must have an awesome start. Personalized cat canvas is a perfect gift for you and any other cat people. Yes, we are not kidding. What is as meaningful as a print on which you put your personal touch? What is as aesthetic as a print of your beloved cat? The answer is our personalized cat canvas.  
And if a personalized visual is not enough to convince you, then adding the affordability is. From aesthetic appeal to affordable prices, our personalized cat canvases have got all!
Some best personalized cat canvas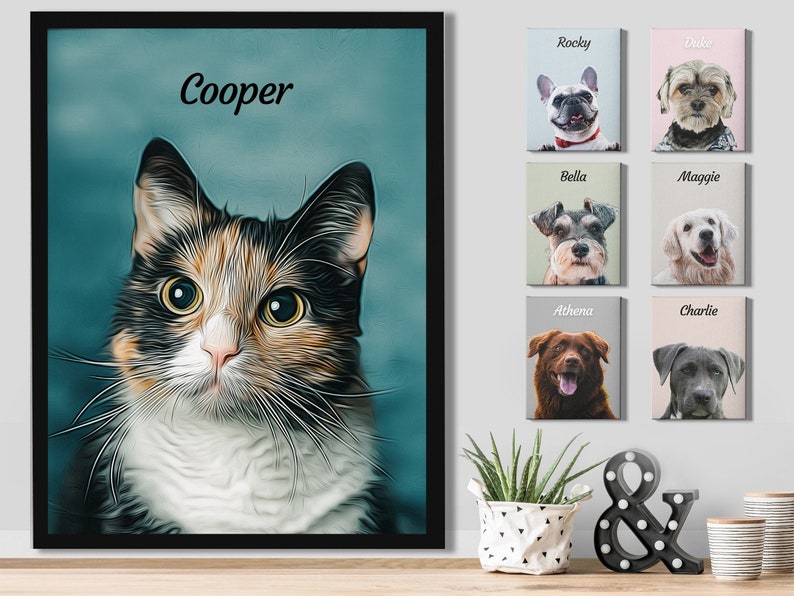 When it comes to the best personalized cat canvas, the answer is most likely up to you. There are thousands of cat canvas painting ideas which you come up with or you come across on the Internet.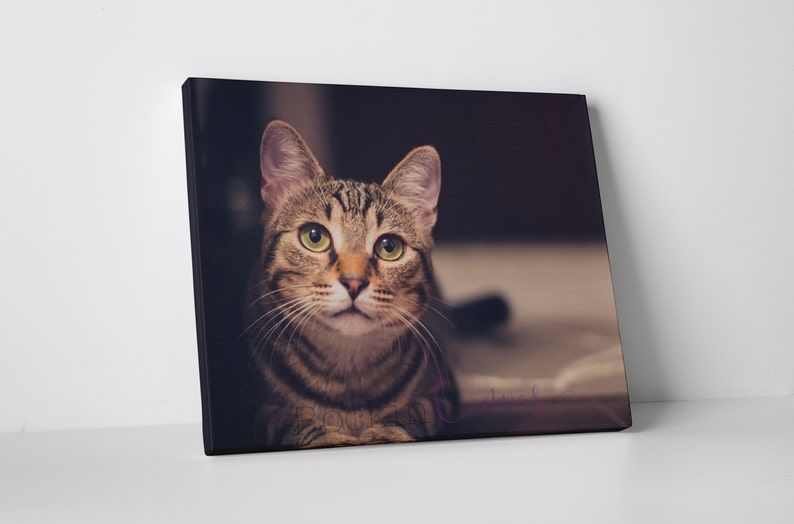 If you are new to cat canvas art prints, please don't bother taking your time and immersing yourself in the world of cat canvas pictures. You will definitely find something amazing enough to decide on getting your own cat canvas.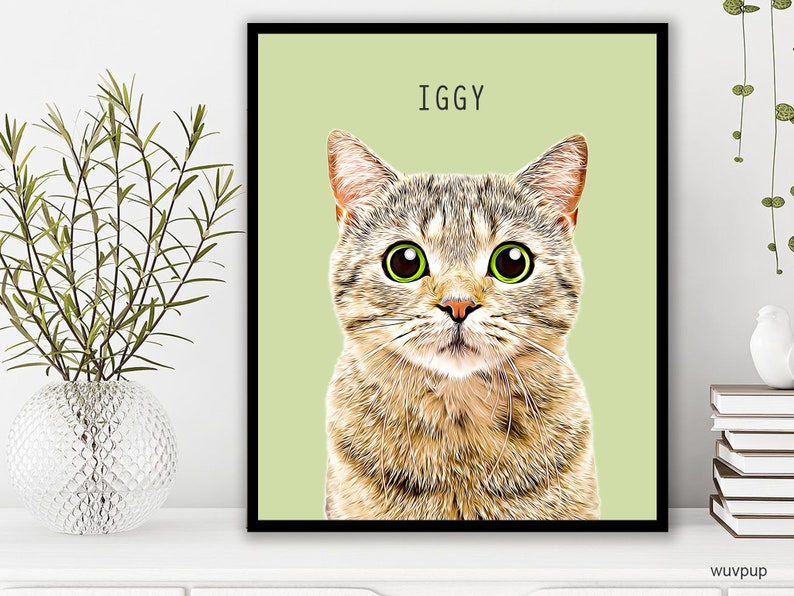 The canvases are available in all colors. So your mate is an American Bobtail and you are searching for an orange cat canvas? It is completely not a big deal.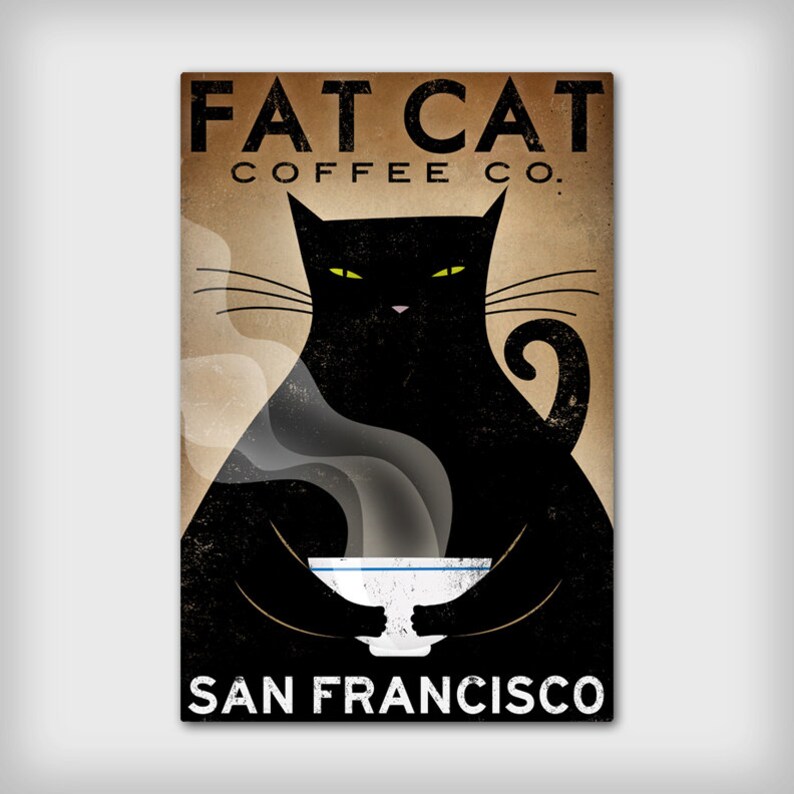 Then your mom's cat is the Bombay breed and you want to get a personalized black cat canvas so bad to be a birthday gift for her? You can always expect your need to be satisfied with the personalized cat canvases.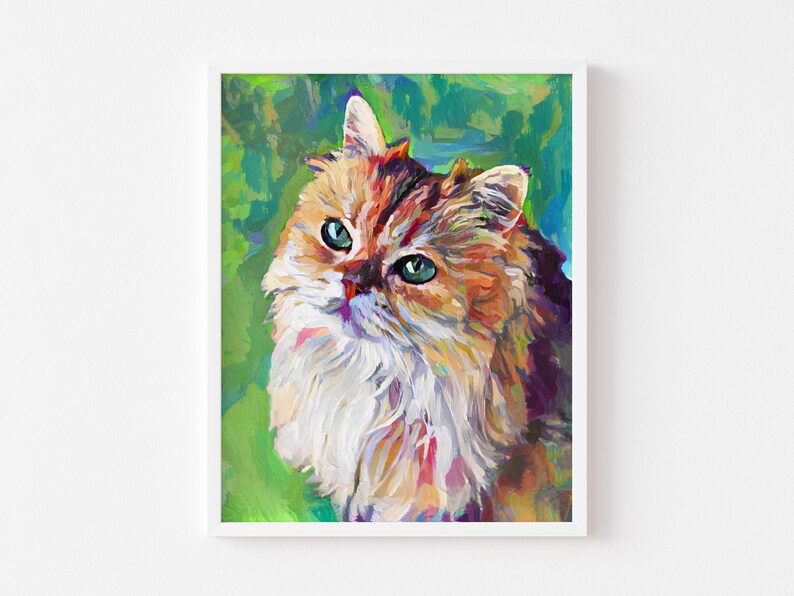 >>>Best sellers! Top 19+ personalized pet canvas
For any solid color like black, white, orange, chocolate, cream, fawn, cinnamon, lilac, or smoke, the game is easy. But even if your cat is any of tabby colors, tortoiseshell colors, torbies, or tuxedos, the game keeps going! We provide premium inks with brilliant colors which perfectly illustrate your cat. 
Meow, a colorful cat canvas does not satisfy you and you want it to be funny? We can hear you! We have all the ideas of the funny cat canvas which you can think of. That waking up and the first thing you see is your cat's hilarious face must be a magical way to start a new day. So why are you still hesitating?
How much does a custom cat canvas cost?
Just imagine that you are being excited to get a personalized cat canvas, but soon then get disappointed when you see the price. You don't stop there and keep looking around, and all you can find is the prices ranging from 40 bucks to more than 100 bucks. You are about to give up.
But hold on! don't let what you see for the first time fool you. Just be like your cat, calm and cautious! For any personalized cat canvas which lasts for a lifetime and brings the most precious memories of you and your beautiful mate, you will always be able to find a reasonable price for you.
You are not just looking for printing to hang on your bedroom's wall, you are looking for a piece of art that preserves your love for your one and only fluffy companion.
What is the best custom cat canvas website? 
It is completely understandable if you are confused among thousands of Google search results. Normally, you will be most attracted to top results appearing, but you are reluctant to make up your mind. Hanging a well-crafted canvas print on your wall, you want to make sure that that piece of art has been created with high-resolution printing techniques, durable materials, and artistically skilled designers.
When you have already selected a few options and are coming to make your final decision, we advise you not to forget to listen to your heart. The best personalized cat canvas website is the one valuing and treasuring your unique experience with your cat. By learning what a canvas company can bring to you, you will surely be able to make the most correct decision.
Why get a customized cat canvas from 365 Fury?
From the bottom of our hearts, we value your journey with your beautiful cat. We understand how meaningful the existence and companionship of that awesome friend are to you. More than that, we believe we can provide you with a personalized product that satisfies all your wildest ideas of cat canvases. 365 Fury has a wide range of personalization options that you can choose to apply to your cat canvas. We are going to give you and your lovely mate art printing of any size, any color, and any other specific feature.
Orders are processed Monday through Friday EST, excluding holidays.
As soon as the product is shipped out, you will receive an email from us with the tracking information and other details about delivery. If you are not satisfied with your purchase, just send us an email at cs@365fury.com and we will make it right by offering you a replacement or refund. Please contact us as soon as possible if you need to modify or cancel your order.
Our refund policy lasts 30 days after your delivery. If 30 days have gone by since the delivery, we can't offer you a refund or exchange. Any unsuccessful delivery due to any customers' mistakes on shipping address or customers' unavailability, any loss of products due to the security of customers' living areas will NOT be eligible for free replacement and full refund.
If your item is defective, you don't need to return the original item and we will resend you a replacement for free. Since our products are made-to-order, we do not replace or refund items unless the item you received has a major problem. If you choose to return your order without informing us first and it does not meet all of our requirements, a refund/replacement will not be issued.
Final thoughts
When each day passes by, you and your loved cat have more memories to treasure and preserve. You appreciate every moment you are living and you desire to be able to stop the time for a while so that all the precious seconds will stay with you longer. You cannot change the law of the time, but you can get a personalized cat canvas to keep your memories alive. Each day of yours is going to be fulfilled by this piece of art.
Personalized cat canvases are the most perfect gift for you and your beloved ones as they are affordable, durable, and suitable for all occasions. Giving personalized cat canvases to your family members, your friends or your colleagues show that you know and love them at heart. Who can resist such a fluffy and intelligent creature? Why don't we spread our love for cats to the world and let our beautiful mates dominate? This world is happier thanks to the companionship of you and your cat. Owning or giving out a personalized cat canvas has never been as easy as it is now by ordering at 365 Fury. Order today and wait for one of the best pieces of art to come to you and someone you care about!